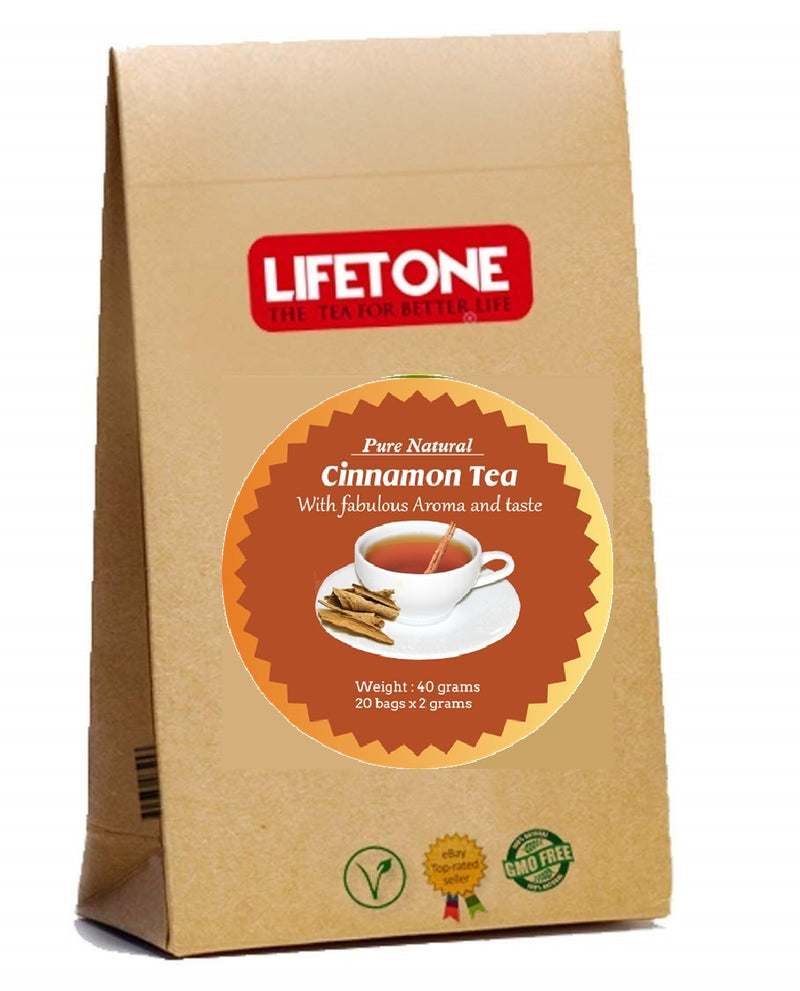 Spice tea
Cinnamon Tea: A delicious experience (20 teabags, 40g)
In stock
Lifetone Tea
CC03042017
Cinnamon Tea: A delicious experience
 This delicious beverage is a blend of Ceylon Black Loose Leaf Tea, and then flavoured with exotic Ceylon Cinnamon for an extra kick.
Strong, flavoursome and nourishing, Cinnamon Tea is the perfect brew to get you out of bed in the morning!
Ceylon Cinnamon Tea is for the adventurous. Its distinct, yet delectable taste is like no other. When combined with a healthy and active lifestyle, this brew can likewise provide countless health benefits.
Ingredients:  70 % Ceylon Cinnamon, 30 %  Organic Ceylon Black tea   
Usage: Maximum 2 tea bags per day. Consuming Night and Morning, an hour before the meal is considered as appropriate.
Processing :  Our Ceylon Cinnamon (which is also referred to as True Cinnamon) is a finely-processed cinnamon with a nice taste and aroma. It is harvested directly from the mature trunk of a Ceylon Cinnamon tree which is native to Sri Lanka. It is particularly popular because it has low levels of Coumarin compared to Cassia Cinnamon found at your grocery store.
Packaging:  The Cinnamon tea is neatly packaged in 20 tea bags and arranged in our branded pouches ready for drinking to promote healthy living in you. We make all our pouches with food grade, unbleached and recyclable papers to ensure environment and food safety.
UK Deliveries are posted in 1st Class Royal Mail post at the same day of purchase, if the purchase is before 11 am.
Order and Shipping Confirmation
You will receive an email confirmation once your order has been successfully placed–it will include your order number and shipping method. Please make sure your shipping address is correct as we are unable to redirect goods once they are on route to you. Orders can take up to 2 business days to be processed and shipped. Once your order is prepared for shipment you will receive a shipping confirmation email with your tracking information. Please note that monogrammed items take up to four weeks to ship, no matter what shipment type is chosen. Please also note that in some cases, your order may arrive in multiple shipments (i.e., in the case of pre-order, backorder, and monogrammed/personalized items).
Where We Ship
We currently ship to U.S. addresses including Alaska, Hawaii and U.S. Territories. We do not ship to PO Boxes/APO/FPO addresses. We now ship to Canada, the United Kingdom, France, Germany and Italy and we are working on expanding to other countries soon. Please note, not all items can ship to all countries. Non-US shipping eligibility is indicated on the item detail page. Thank you so much for your patience as we expand our international presence.