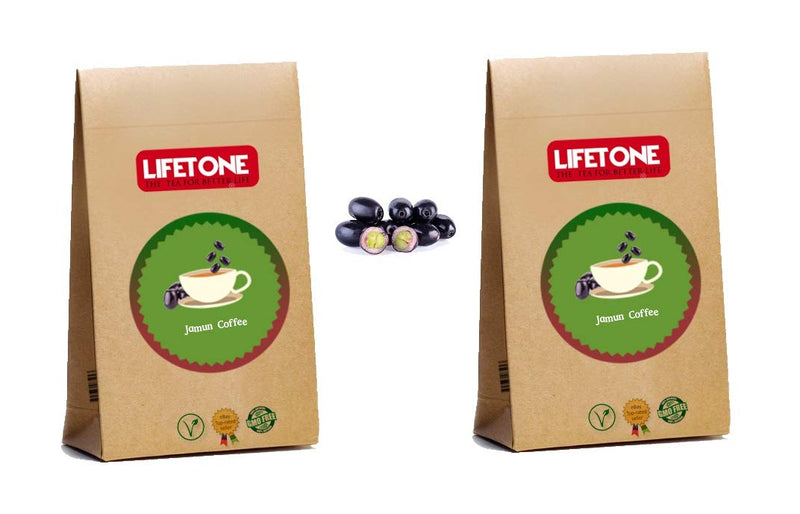 Delicious Caffeine free coffee alternative, New dimension of healthy coffee without GMO coffee beans,Delicious caffeine free coffee.
Jamun Jambolan is an evergreen tropical tree that is native to the Indian subcontinent and adjoining regions off Southeast Asia. It is a fast growing and very attractive tree highly esteemed by its native owners and Well known for its dark and purplish plum fruit.  Jamun seed kernel is known to have amazing health benefits. Its an excellent diabetic tea
Caffeine free but maintains the energy: Its detectably delicious with the touch of ginger and cardamom however it energises the body due to its content. 
Ingredients: 70% Jamun seed kernel powder, 10% Cardamom, 10% Coriander Seed Powder,10 %Ginger Root powder.
Processing :  Jamun seed's kernal is a finely-processed with cardamom,Coriander and ginger in order to produce our janum seed coffee. Possible Green Ltd's popular innovative caffeine free coffee is consumed through out the world, not only due to it's present aroma but also it's health benefits.
Packaging:  The caffeine free alternative coffee is neatly packaged in 20 Sachets and arranged in our branded pouches ready for drinking to promote healthy living in you. We make all our pouches with food grade, unbleached and recyclable papers to ensure environment and food safety.
Usage: Maximum 2 Sachets per day. Consuming Night and Morning, an hour before the meal is considered as appropriate.
How to prepare? :Open the sachet and place  in a cup. Create a paste with a little water Add cup of hot water Add sweetener if needed & stir well Enjoy, take 2 cups a day for effective health benefit.
Order and Shipping Confirmation
You will receive an email confirmation once your order has been successfully placed–it will include your order number and shipping method. Please make sure your shipping address is correct as we are unable to redirect goods once they are on route to you. Orders can take up to 2 business days to be processed and shipped. Once your order is prepared for shipment you will receive a shipping confirmation email with your tracking information. Please note that monogrammed items take up to four weeks to ship, no matter what shipment type is chosen. Please also note that in some cases, your order may arrive in multiple shipments (i.e., in the case of pre-order, backorder, and monogrammed/personalized items).
Where We Ship
We currently ship to U.S. addresses including Alaska, Hawaii and U.S. Territories. We do not ship to PO Boxes/APO/FPO addresses. We now ship to Canada, the United Kingdom, France, Germany and Italy and we are working on expanding to other countries soon. Please note, not all items can ship to all countries. Non-US shipping eligibility is indicated on the item detail page. Thank you so much for your patience as we expand our international presence.