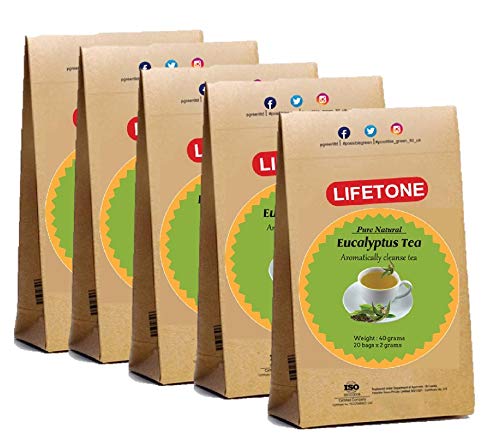 Eucalyptus Leaf Tea,100 individually wrapped Teabags-The indigenous knowledge to the modern world.-
Eucalyptus (in Latin, eucalyptus globulus) is a tall tree native to Tropical regions in the world. The leaves has been used in indigenous medicine for various conditions.
Processing : Possible Green LTD is known for producing it herbs and teas under high quality condition and we have not compromised in this. Lifetone Eucalyptus  tea is processed directly from the carefully harvested Eucalyptus leaves that are dried at low temperature, under the most hygienic condition and milled to bring out fine blend of tea. The tea making process is supervised by our quality assurance team which consists of experienced herbalists, botanist, phytologists and microbiologists. The Eucalyptus leaves that we use to produce our tea are not commercially grown. 100% percent of our leaves are from Vanni forest area in Northern part of Sri Lanka.
Packaging :  The tea is neatly packaged in 20 teabags and arranged in our branded pouches ready for drinking to promote healthy living in you. We make all our pouches with food grade, unbleached and recyclable papers to ensure environment, health and food safety.
Ingredients :  100% Dried Eucalyptus Leaves.
Benefits of eucalyptus Tea:    Eucalyptus is used for many conditions including asthma, bronchitis, plaque and gingivitis, head lice, toe nail fungus, and many others.
Usage: Maximum 2 tea bags per day. Consuming Night and Morning tea is considered appropriate.
Warning: Eucalyptus leaf is LIKELY SAFE when consumed in the amount mentioned above
Order and Shipping Confirmation
You will receive an email confirmation once your order has been successfully placed–it will include your order number and shipping method. Please make sure your shipping address is correct as we are unable to redirect goods once they are on route to you. Orders can take up to 2 business days to be processed and shipped. Once your order is prepared for shipment you will receive a shipping confirmation email with your tracking information. Please note that monogrammed items take up to four weeks to ship, no matter what shipment type is chosen. Please also note that in some cases, your order may arrive in multiple shipments (i.e., in the case of pre-order, backorder, and monogrammed/personalized items).
Where We Ship
We currently ship to U.S. addresses including Alaska, Hawaii and U.S. Territories. We do not ship to PO Boxes/APO/FPO addresses. We now ship to Canada, the United Kingdom, France, Germany and Italy and we are working on expanding to other countries soon. Please note, not all items can ship to all countries. Non-US shipping eligibility is indicated on the item detail page. Thank you so much for your patience as we expand our international presence.