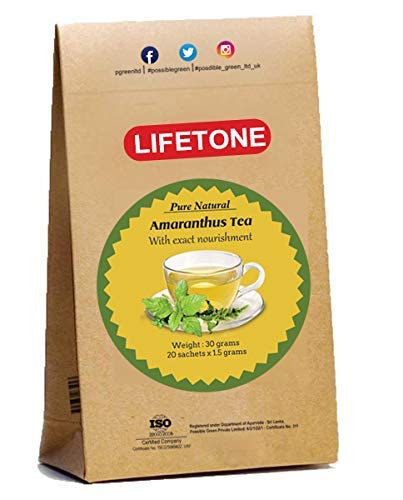 Introduction: Amaranth Pigweed Leafy plant mostly grown in the tropical climate. It is known that this plant's origin is South & Central America and Mexico. But it is widely available in the South and East Asian countries. This herbal plant mainly found in warm area and known for traditional medicine throughout the world. This herbal plant can grow up to 100 cm high and its leaves normally about 3 inches long. The whole parts of the plats are edible and enriched with nutrients. 
Health benefits of Amaranth leaf :• Health benefit including appetite suppression, antioxidant properties are reported in various studies; 
Nutrition Value of Amaranth leaf :Compositions of dry weight leaves in grams (g) per 100g of food• 276 Calories per 100 g • Protein : 30g • Fat : 4.5g • Carbohydrate : 50g • Fibre : 10g• Ash : 20g• Minerals - calcium : 5000mg• Phosphorus : 450mg• Iron : 100mg• Sodium : 30mg• Vitamin A : 40mg• Vitamin B1 : 0.06mg• Vitamin B2 : 2.02mg• Niacin : 8mg• Vitamin B6 : 0mg• Vitamin C : 503mg
Order and Shipping Confirmation
You will receive an email confirmation once your order has been successfully placed–it will include your order number and shipping method. Please make sure your shipping address is correct as we are unable to redirect goods once they are on route to you. Orders can take up to 2 business days to be processed and shipped. Once your order is prepared for shipment you will receive a shipping confirmation email with your tracking information. Please note that monogrammed items take up to four weeks to ship, no matter what shipment type is chosen. Please also note that in some cases, your order may arrive in multiple shipments (i.e., in the case of pre-order, backorder, and monogrammed/personalized items).
Where We Ship
We currently ship to U.S. addresses including Alaska, Hawaii and U.S. Territories. We do not ship to PO Boxes/APO/FPO addresses. We now ship to Canada, the United Kingdom, France, Germany and Italy and we are working on expanding to other countries soon. Please note, not all items can ship to all countries. Non-US shipping eligibility is indicated on the item detail page. Thank you so much for your patience as we expand our international presence.