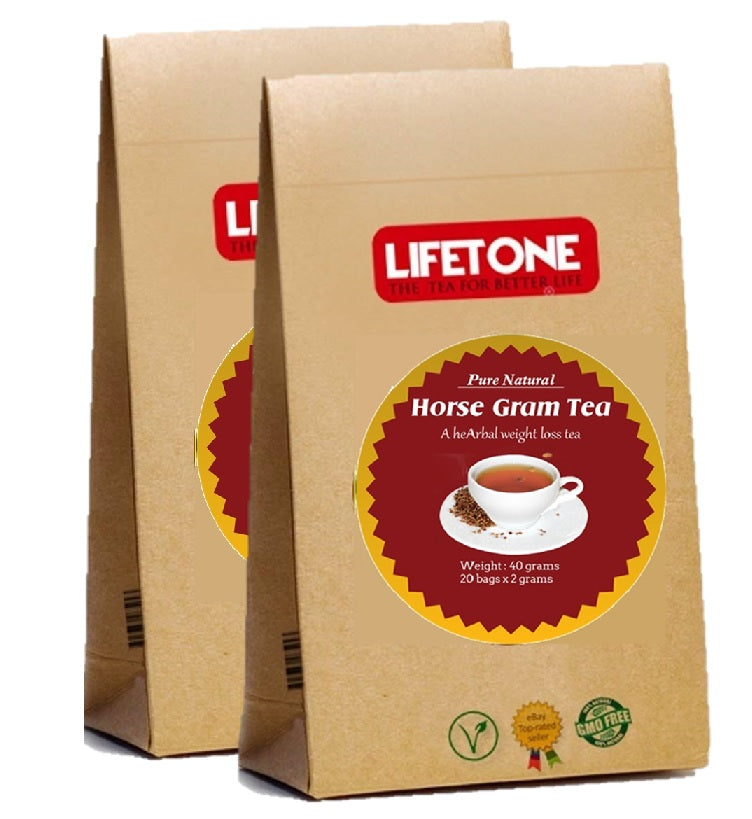 HERBAL TEA
Ayurveda Detox Slimming tea | 40 Teabags for 20 Days | Lifetone Detox plan
In stock
Lifetone Tea
5060681652801
Diet Slimming Herbal Tea with Horse Gram and Cumin
The seeds of horse gram have natural properties that work as natural fat burners. This can be taken as a regular diet for Detox.Ayurveda and Siddha medicinal therapy suggests herbal solution for weight reduction. Its free from side effects and provide proper nourishment to our body. Horse gram is one of the most trusted herb for shedding extra pounds. It is the easy to find ingredient, which shows quick results in weight reduction. Cumin is the popular laxative herb, therefore, the appropriate combination of both is the perfect combination for healthy slimming. 
The heat produced by horse gram seed can perform the act of fats burning without any side effects and combination of cumin intensify the digestion.
Ingredients:  75% Horse Gram, 25% Cumin seeds
This is Possible Green's Lifetox tea
Usage: 1 Cup in the morning before breakfast and 1 in the night after diner, 10 - 14 Day consumption.
Processing of Horse Gram - Cumin detox Tea
Lifetone Horse Gram tea from Possible Green LTD. is processed from healthy, mature and organically planted Horse Gram and cumin  Plants. The leaves are harvested, dried at low temperature and then milled. The production process is coordinated and supervised by our quality assurance team that consists of experienced herbalists, physiologist and microbiologists to help produce fine blend of tea to promote healthy living
✅ Detox & cleanse slimming tea : Our 20 Day Teatox Cleanses and Purifies the toxins and Waste. Boosts Metabolism and Energy Level for Faster Fat Loss. Helps Get Rid of Excess Water and Reduces Stress. The combination of Horse gram and Cumin has been used for 'fat burn' 4000 years in Ayurveda tradition, It's given to the race horse to loose fat and run fast

✅ How does it work: Horse Gram induces fatburn by generating heat in the body, cumin balance the heat by inducing laxative effect. 2 teas minimum per day considered to be appropriate. With 20 days of regular consumption with diet control and 10 minutes of regular walk , the Slimming process will be visible.

✅ Appetite suppressant tea- Helps Naturally Suppress Appetite and Slim Faster. Lowers Hunger Tea contains 100% natural ingredients; Horse gram and Cumin is completely compatible with vegan. Horse Gram generates heat in the body cumin balances it, the process supresses the appetite.

✅ Possible Green Pvt Ltd is an ISO certified enterprise which assumes its corporate social responsibility; Partially funded by world bank; Awarded by Australian government for women trading globally.

✅ LIFETONE Tea for healthy life: This skinny fat loss tea will induces visible Fatburn with appropriate meal plan and exercise, 100% success rate thorough out the world.
Order and Shipping Confirmation
You will receive an email confirmation once your order has been successfully placed–it will include your order number and shipping method. Please make sure your shipping address is correct as we are unable to redirect goods once they are on route to you. Orders can take up to 2 business days to be processed and shipped. Once your order is prepared for shipment you will receive a shipping confirmation email with your tracking information. Please note that monogrammed items take up to four weeks to ship, no matter what shipment type is chosen. Please also note that in some cases, your order may arrive in multiple shipments (i.e., in the case of pre-order, backorder, and monogrammed/personalized items).
Where We Ship
We currently ship to U.S. addresses including Alaska, Hawaii and U.S. Territories. We do not ship to PO Boxes/APO/FPO addresses. We now ship to Canada, the United Kingdom, France, Germany and Italy and we are working on expanding to other countries soon. Please note, not all items can ship to all countries. Non-US shipping eligibility is indicated on the item detail page. Thank you so much for your patience as we expand our international presence.