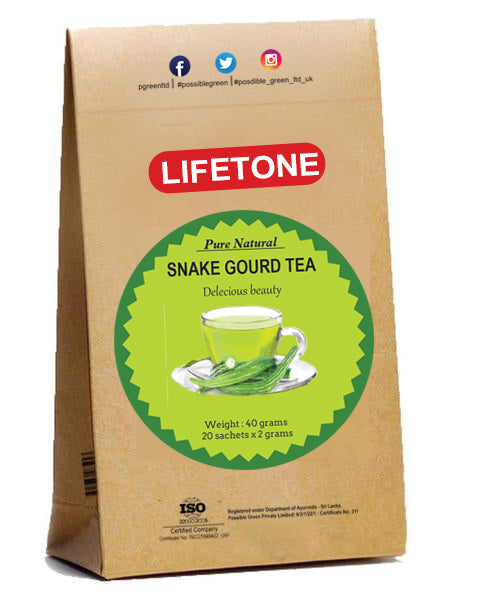 HERBAL TEA
Snake Gourd Tea|Rare cooling herbal tea| Detox tea for weight loss|20 teabags
In stock
Possible Green Ltd
LN010719SNK20
Snake gourd, (Trichosanthes cucumerina), also called serpent gourd, rapid-growing vine of the gourd family (Cucurbitaceae), cultivated for its oddly shaped edible fruits. The snake gourd is native to tropical areas such as southeastern Asia and Australia and is also grown in parts of tropical Africa.

Snake gourd is really a all-natural anti-biotic,as well as healthy laxative. It may expel poisonous matter, so that strong detox and is also anti-inflammatory. It makes a cooling effect within the body.
Ingredient: 100% Pure Snake Gourd
Processing: Possible Green LTD is known for producing it herbs and teas under high quality condition and we have not compromised in this. Lifetone Snake Gourd tea is processed directly from carefully harvested snake gourds that are dried at low temperature, under the most hygienic condition and milled to bring out fine blend of tea. The tea making process is supervised by our quality assurance team which consists of experienced herbalists, botanist, phytologists and microbiologists. The tea is neatly packaged in 20 tea bags and arranged in our branded zip lock bag ready for drinking to promote healthy living in you.
Order and Shipping Confirmation
You will receive an email confirmation once your order has been successfully placed–it will include your order number and shipping method. Please make sure your shipping address is correct as we are unable to redirect goods once they are on route to you. Orders can take up to 2 business days to be processed and shipped. Once your order is prepared for shipment you will receive a shipping confirmation email with your tracking information. Please note that monogrammed items take up to four weeks to ship, no matter what shipment type is chosen. Please also note that in some cases, your order may arrive in multiple shipments (i.e., in the case of pre-order, backorder, and monogrammed/personalized items).
Where We Ship
We currently ship to U.S. addresses including Alaska, Hawaii and U.S. Territories. We do not ship to PO Boxes/APO/FPO addresses. We now ship to Canada, the United Kingdom, France, Germany and Italy and we are working on expanding to other countries soon. Please note, not all items can ship to all countries. Non-US shipping eligibility is indicated on the item detail page. Thank you so much for your patience as we expand our international presence.